Germany's rural countryside is dotted with neatly landscaped gardens, castles, and vineyards, while its cities are clean, well-organized, and easy to navigate. Germany's railway system is one of the world's best, making it easy to travel throughout the country.

The center of Germany is located at 51.17 degrees North latitude and 10.45 degrees East longitude.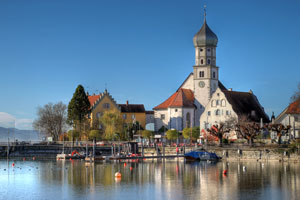 Germany's largest lake, the Bodensee, also known as Lake Constance or the "Swabian Sea", is traversed by ferries offering excursions between Germany, Austria, and Switzerland. The Bodensee's Mediterranean-like island of Mainau is home to a Baroque castle and over 1,000 varieties of roses. Stay at the Steigenberger Inselhotel, situated on its own island across from the resort town of Konstanz. The hotel's restaurant serves up fresh fish caught daily and spectacular views of the lake. Konstanz is located on the German-Swiss border, and can be reached via a 4 hour train ride southwest from Munich.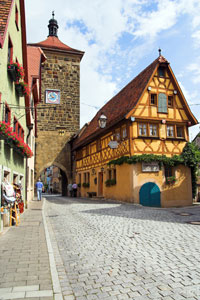 The Romantic Road, or Romantische Strasse, through Bavaria is a journey not to be missed. Stretching 180 miles from Wurzburg to Fussen, the Romantic Road is lined with picturesque medieval towns, villages, and castles. While in Wurzburg, take time to sample the local white wines served in the opulent Baroque palace known as the Residenz before moving on to Rothenburg ob der Tauber. Stay in Rothenburg's world-renowned Hotel Eisenhut, and discover the remnants of a 12th century chapel in its lobby. Traveling further, you will discover the towns of Dinkelsbuhl and Nordlingen, and the royal castles of Hohenschwangau and Neuschwanstein. Wurzburg is located 74 miles southeast of Frankfurt, and can be easily reached by train or car.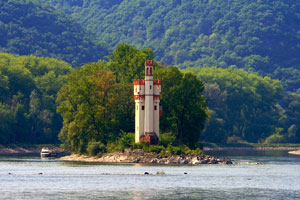 Germany's Rhine Valley contains 50 miles of the famous Rhine River, which winds past vineyards, forests, villages, and castles on its way way from Mainz to Koblenz. The Rhine can be explored by car on scenic riverbank roads, or via a breathtaking river cruise. At Koblenz, the Rhine River intersects with the Mosel River, which winds through peaceful scenery on an 85 mile stretch between Koblenz and the ancient city of Trier. Make time to enjoy some local Riesling wine from the Rhine and Mosel regions. Mainz is 200 miles northwest of Munich and 90 miles south of Cologne. September is peak wine harvesting time, and October provides the most spectacular foliage.
From modern, clean city centers to majestic castles and countryside, Germany offers an abundance of experiences that will make your trip one to remember!
---
Copyright © 2010-2023 Map-Of-Germany.org. All rights reserved.

Germany Address Locator Map